Paul Massey's
Personal
Dub Stage
System Integration Project
Paul Massey's Personal Audio Post Production Dub Stage
Paul Massey
Major film dubbing mixer Paul Massey is a sound engineer based in Southern California. He has been nominated for seven Academy Awards in the category of Best Sound, and has won numerous British Academy Film Awards (BAFTA), Satellite Awards given by the international Press Academy, Gemini Awards given by the Academy of Canadian Cinema & Television, and Cinema Audio Society Awards for Outstanding Achievements in Sound Mixing. Massey has worked on more than 170 films since 1982.
Selected Filmography
"Legends of the Fall" (1994)
"Air Force One" (1997)
"Master and Commander: The Far Side of the World" (2003)
"3:10 to Yuma" (2007)
"Star Trek" (2009)
"Pirates of the Caribbean: On Stranger Tides" (2011)
"The Amazing Spider-Man" (2012)
"The Monuments Men" (2014)
"The Martian" (2015)
"Pirates of the Caribbean: Dead Men Tell No Tales" (2017)
"The Mummy" (2017)
Massey recently called on the integrators at Audio Intervisual Design for an extensive upgrade to his private dub stage. His recent work includes "Dead Men Tell No Tales", the latest in the Pirates of the Caribbean franchise and Tom Cruise's "The Mummy." Massey does all his off site pre-dubs in his personal studio in Ojai, north of Los Angeles, and currently does the final mix at 20th Century Fox in the John Ford Theater.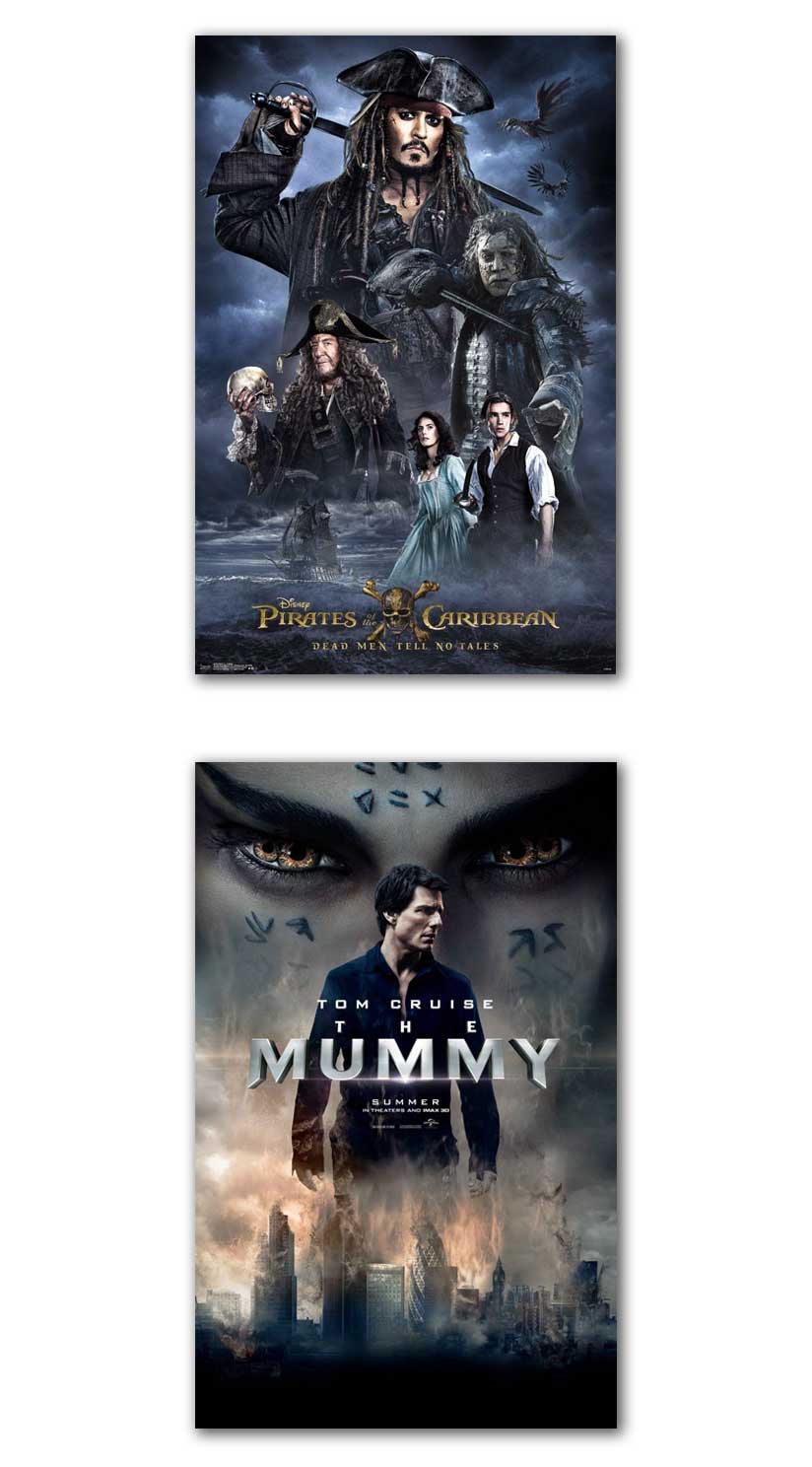 Concept, Design & Installation
Massey: Post Production Sound Company
Project Scope: Audio Intervisual Design installed a complete audio post production mixing suite.
Integration: Audio Intervisual Design included system design and the installation of an audio post mix room with a 195 input Harrison MPC5 console, screen, machine room as well as the surround sound speaker system and acoustical treatment. Paul Massey recently upgraded the studio through AID with Pro Tools HD updates, console upgrades and ongoing technical support.
Learn more about the room, Paul's work and the install in a conversation with Paul Massey by David Goggin below…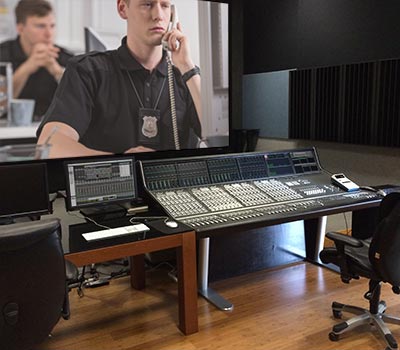 Massey Mix Room Installation
Mix Room with Harrison MPC5 Console
Conversation with Paul Massey by David Goggin
Coincidence, my wife and I were watching "3:10 to Yuma" last night. Oh boy, what a film.
Yeah it's a great film.
So let's talk about your studio in Ojai. Would you call it a dub stage?
Yes, it's a custom-built dub stage that I initially built for pre-dubs. I've also done some final mixing out of there as well. But it's a building that I had built in 2009. Went into service as a dub stage in 2010.
What kind of projects have you done there?
I do all of my dialogue pre-dubbing there. Then I bring those pre-dubs to Los Angeles for final mixing with everyone else in the larger room. Currently I'm based at Fox in the Ford Theater. Recently I've pre-dubbed "Pirates of the Caribbean"; "Dead Men Tell No Tales"; "Logan"; "The Mummy". And I did some work on "Alien Covenant".
And do you live in Ojai?
I do, yes. So this is a building I put up on the property there. I've been living in Ojai for about 8, 9 years.
Does doing your preliminary work on your homestead must make life a little easier for you?
It does, definitely. Yes, the purpose for me to build it was not only to get a reliable room that I could completely customize, but it also enables me to be at home a little more often because when I'm working in Los Angeles I cannot get home at all.
Let's talk a little bit about Jim Pace at Audio Intervisual Design. What's the background on your relationship with Jim and what you wanted to accomplish, and what did he do to make that a reality?
Well, I first met Jim around 2007 through his AID company, which supplies professional audio equipment. I found out that Jim also has a second home in Ojai. So we met several times and I told him my plans to build a dub stage. He ended up consulting, advising and then supplying and installing all of the equipment there. As I say, this was a ground up building so it was a complete new start and he supplied all the computers, all the wiring, all the installations, speakers, projector, screen, console–everything.
Wow.
From top to bottom. And did the entire installation. And now he continues to help me out with service contracts to continue maintenance as needed.
Did you do any recent new acquisitions of equipment?
Yes, I recently upgraded. I have three Pro Tools rigs. I upgraded them all to HDX and additional MADI outputs, taking them all to 128 out on each of the rigs. And I also did an upgrade on my console; I have a Harrison MPC5. So I did an upgrade to that from 128 to 192 inputs, added an additional Pec/Direct Panel along with a customizable Soft Key Panel, and changed to the latest engines and software.
What kind of monitors are you using?
I'm using two-way system, JBL dual 15-inch cabinets on the lowers and BMS dual concentric drivers through horns for the upper frequencies. And I'm using Crown amps on the bottom and Parasound on the top. Lake speaker processing provides room-tuning capabilities.
So all of this is designed to prepare you when you take the work that you've done in your studio to the big dubbing stage and have everything function and work perfectly.
Correct, yes. The room's a reasonable size and the building's about 40 feet by 20 feet. So I've managed to get it to the point now where I have no translation issues at all bringing it to a larger dub stage such as the Ford Theater at Fox. I'm using a Microperf Stewart screen with a Christie projector. So the setup is very similar, just on a smaller scale.
Well, three major movies in the last few months — you're a busy lad.
Yes, I have been. It's been good, I've been lucky.
Good for you. I like your work, I'm glad that I was watching one of your films last night.
Oh great, David, thank you. I enjoyed that film.
Featured Studio Installations
[db_pb_slide heading="Massey" button_text="Learn more" background_image="https://aidinc-web.s3.us-west-1.amazonaws.com/wp-content/uploads/2017/05/09193421/Massey_Console_1600.jpg" background_position="center" background_size="cover" background_color="#ffffff" use_bg_overlay="on" bg_overlay_color="rgba(0,0,0,0.15)" use_text_overlay="off" alignment="center" background_layout="dark" allow_player_pause="off" admin_title="massey" text_border_radius="3" header_font_select="default" header_font="||||" body_font_select="default" body_font="||||" custom_button="off" button_font_select="default" button_font="||||" button_use_icon="default" button_icon_placement="right" button_on_hover="on" button_link="https://aidinc.com/system-integration/paul-massey/" button_icon="%%32%%" use_background_color_gradient="off" background_color_gradient_start="#2b87da" background_color_gradient_end="#29c4a9" background_color_gradient_type="linear" background_color_gradient_direction="180deg" background_color_gradient_direction_radial="center" background_color_gradient_start_position="0%" background_color_gradient_end_position="100%" parallax="off" parallax_method="off" background_repeat="no-repeat" background_blend="normal" ][db_pb_slide heading="Massey" button_text="Learn more" background_image="https://aidinc-web.s3.us-west-1.amazonaws.com/wp-content/uploads/2017/05/09193421/Massey_Console_1600.jpg" background_position="center" background_size="cover" background_color="#ffffff" use_bg_overlay="on" bg_overlay_color="rgba(0,0,0,0.15)" use_text_overlay="off" alignment="center" background_layout="dark" allow_player_pause="off" admin_title="massey" text_border_radius="3" header_font_select="default" header_font="||||" body_font_select="default" body_font="||||" custom_button="off" button_font_select="default" button_font="||||" button_use_icon="default" button_icon_placement="right" button_on_hover="on" button_link="https://aidinc.com/system-integration/paul-massey/" button_icon="%%32%%" use_background_color_gradient="off" background_color_gradient_start="#2b87da" background_color_gradient_end="#29c4a9" background_color_gradient_type="linear" background_color_gradient_direction="180deg" background_color_gradient_direction_radial="center" background_color_gradient_start_position="0%" background_color_gradient_end_position="100%" parallax="off" parallax_method="off" background_repeat="no-repeat" background_blend="normal" ][db_pb_slide heading="Massey" button_text="Learn more" background_image="https://aidinc-web.s3.us-west-1.amazonaws.com/wp-content/uploads/2017/05/09193421/Massey_Console_1600.jpg" background_position="center" background_size="cover" background_color="#ffffff" use_bg_overlay="on" bg_overlay_color="rgba(0,0,0,0.15)" use_text_overlay="off" alignment="center" background_layout="dark" allow_player_pause="off" admin_title="massey" text_border_radius="3" header_font_select="default" header_font="||||" body_font_select="default" body_font="||||" custom_button="off" button_font_select="default" button_font="||||" button_use_icon="default" button_icon_placement="right" button_on_hover="on" button_link="https://aidinc.com/system-integration/paul-massey/" button_icon="%%32%%" use_background_color_gradient="off" background_color_gradient_start="#2b87da" background_color_gradient_end="#29c4a9" background_color_gradient_type="linear" background_color_gradient_direction="180deg" background_color_gradient_direction_radial="center" background_color_gradient_start_position="0%" background_color_gradient_end_position="100%" parallax="off" parallax_method="off" background_repeat="no-repeat" background_blend="normal" ][db_pb_slide heading="Massey" button_text="Learn more" background_image="https://aidinc-web.s3.us-west-1.amazonaws.com/wp-content/uploads/2017/05/09193421/Massey_Console_1600.jpg" background_position="center" background_size="cover" background_color="#ffffff" use_bg_overlay="on" bg_overlay_color="rgba(0,0,0,0.15)" use_text_overlay="off" alignment="center" background_layout="dark" allow_player_pause="off" admin_title="massey" text_border_radius="3" header_font_select="default" header_font="||||" body_font_select="default" body_font="||||" custom_button="off" button_font_select="default" button_font="||||" button_use_icon="default" button_icon_placement="right" button_on_hover="on" button_link="https://aidinc.com/system-integration/paul-massey/" button_icon="%%32%%" use_background_color_gradient="off" background_color_gradient_start="#2b87da" background_color_gradient_end="#29c4a9" background_color_gradient_type="linear" background_color_gradient_direction="180deg" background_color_gradient_direction_radial="center" background_color_gradient_start_position="0%" background_color_gradient_end_position="100%" parallax="off" parallax_method="off" background_repeat="no-repeat" background_blend="normal" ]
[/db_pb_slide][/db_pb_slide][/db_pb_slide][/db_pb_slide]