Annapurna
Pictures
Facility
System Integration Project – Annapurna Pictures
Concept, Design & Installation
Annapurna Pictures: An American motion picture company based in Los Angeles, California, that specializes in film and television production, distribution, interactive experiences, game development as well as finance.
Project Scope: The client wanted a state of the art screening room, central machine room, and A/V facilities in meeting rooms and game rooms with the ability to play back video and audio from a central server to any location.
Integration: Audio Intervisual Design managed the project in close cooperation with Annapurna staff and the project's architects providing system diagrams and full wiring schematics for the installation. Audio Intervisual Design also procured the majority of components of the system and provided a full installation team to execute the integration.
Ongoing Support and Upgrades: Audio Intervisual Design continue to work closely with the client providing product consultation, project engineering and daily support.
Learn more…
Annapurna Pictures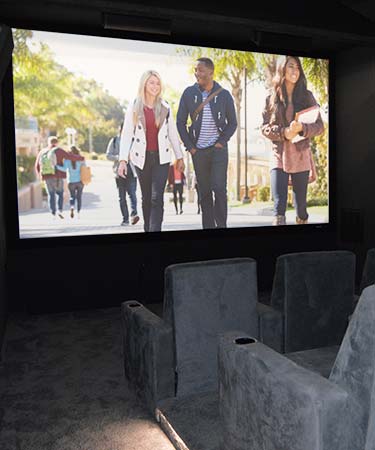 Annapurna Pictures Installation
Featured Studio Installations
[db_pb_slide heading="Massey" button_text="Learn more" background_image="https://aidinc-web.s3.us-west-1.amazonaws.com/wp-content/uploads/2017/05/09193421/Massey_Console_1600.jpg" background_position="center" background_size="cover" background_color="#ffffff" use_bg_overlay="on" bg_overlay_color="rgba(0,0,0,0.15)" use_text_overlay="off" alignment="center" background_layout="dark" allow_player_pause="off" admin_title="massey" text_border_radius="3" header_font_select="default" header_font="||||" body_font_select="default" body_font="||||" custom_button="off" button_font_select="default" button_font="||||" button_use_icon="default" button_icon_placement="right" button_on_hover="on" button_link="https://aidinc.com/system-integration/paul-massey/" button_icon="%%32%%" use_background_color_gradient="off" background_color_gradient_start="#2b87da" background_color_gradient_end="#29c4a9" background_color_gradient_type="linear" background_color_gradient_direction="180deg" background_color_gradient_direction_radial="center" background_color_gradient_start_position="0%" background_color_gradient_end_position="100%" parallax="off" parallax_method="off" background_repeat="no-repeat" background_blend="normal" ][db_pb_slide heading="Massey" button_text="Learn more" background_image="https://aidinc-web.s3.us-west-1.amazonaws.com/wp-content/uploads/2017/05/09193421/Massey_Console_1600.jpg" background_position="center" background_size="cover" background_color="#ffffff" use_bg_overlay="on" bg_overlay_color="rgba(0,0,0,0.15)" use_text_overlay="off" alignment="center" background_layout="dark" allow_player_pause="off" admin_title="massey" text_border_radius="3" header_font_select="default" header_font="||||" body_font_select="default" body_font="||||" custom_button="off" button_font_select="default" button_font="||||" button_use_icon="default" button_icon_placement="right" button_on_hover="on" button_link="https://aidinc.com/system-integration/paul-massey/" button_icon="%%32%%" use_background_color_gradient="off" background_color_gradient_start="#2b87da" background_color_gradient_end="#29c4a9" background_color_gradient_type="linear" background_color_gradient_direction="180deg" background_color_gradient_direction_radial="center" background_color_gradient_start_position="0%" background_color_gradient_end_position="100%" parallax="off" parallax_method="off" background_repeat="no-repeat" background_blend="normal" ][db_pb_slide heading="Massey" button_text="Learn more" background_image="https://aidinc-web.s3.us-west-1.amazonaws.com/wp-content/uploads/2017/05/09193421/Massey_Console_1600.jpg" background_position="center" background_size="cover" background_color="#ffffff" use_bg_overlay="on" bg_overlay_color="rgba(0,0,0,0.15)" use_text_overlay="off" alignment="center" background_layout="dark" allow_player_pause="off" admin_title="massey" text_border_radius="3" header_font_select="default" header_font="||||" body_font_select="default" body_font="||||" custom_button="off" button_font_select="default" button_font="||||" button_use_icon="default" button_icon_placement="right" button_on_hover="on" button_link="https://aidinc.com/system-integration/paul-massey/" button_icon="%%32%%" use_background_color_gradient="off" background_color_gradient_start="#2b87da" background_color_gradient_end="#29c4a9" background_color_gradient_type="linear" background_color_gradient_direction="180deg" background_color_gradient_direction_radial="center" background_color_gradient_start_position="0%" background_color_gradient_end_position="100%" parallax="off" parallax_method="off" background_repeat="no-repeat" background_blend="normal" ][db_pb_slide heading="Massey" button_text="Learn more" background_image="https://aidinc-web.s3.us-west-1.amazonaws.com/wp-content/uploads/2017/05/09193421/Massey_Console_1600.jpg" background_position="center" background_size="cover" background_color="#ffffff" use_bg_overlay="on" bg_overlay_color="rgba(0,0,0,0.15)" use_text_overlay="off" alignment="center" background_layout="dark" allow_player_pause="off" admin_title="massey" text_border_radius="3" header_font_select="default" header_font="||||" body_font_select="default" body_font="||||" custom_button="off" button_font_select="default" button_font="||||" button_use_icon="default" button_icon_placement="right" button_on_hover="on" button_link="https://aidinc.com/system-integration/paul-massey/" button_icon="%%32%%" use_background_color_gradient="off" background_color_gradient_start="#2b87da" background_color_gradient_end="#29c4a9" background_color_gradient_type="linear" background_color_gradient_direction="180deg" background_color_gradient_direction_radial="center" background_color_gradient_start_position="0%" background_color_gradient_end_position="100%" parallax="off" parallax_method="off" background_repeat="no-repeat" background_blend="normal" ]
[/db_pb_slide][/db_pb_slide][/db_pb_slide][/db_pb_slide]