New Draco Ultra KVM Extenders
HDMI, SDI, DVI
New Draco Ultra KVM Extenders for a Wide Range of Video Formats
HDMI 1.3 and 2.0, SDI, DVI-D and DVI-I(VGA)
IHSE expands the successful Draco ultra series with additional KVM extender models. The new versions enable transmission of high-definition video signals including HDMI 1.3, SDI, DVI-I and DVI-D. The Draco ultra range is based on the Lici video codec, developed in cooperation with the Fraunhofer Institute for Integrated Circuits (IIS), to provide the highest possible efficiency in video transmission.
The Draco vario ultra series KVM extenders deliver unprecedented quality in transmission of high definition video at 60 frames per second, alongside keyboard, mouse and data signals with imperceptible latency.
The new Draco ultra extender models enable remote operation of a computer from a user workstation, consisting of a keyboard, mouse and video screen, and are capable of handling HDMI 1.3 and 2.0, SDI, DVI-D and DVI-I(VGA) signals. The SDI extender further converts SDI sources for display on standard computer monitors. Digital audio signals (e. g. for HDMI) can be de-embedded and output as analog audio to other devices such as external speakers or headphones.
The DisplayPort 1.2 and HDMI 2.0 models deliver 4K60 video with a color depth of 10 bits per RGB color channel and optimal 4:4:4 color sampling over a single KVM connection.
By synchronizing multiple Draco ultra extenders, infinite resolutions like 8K or 5K x 3K can be achieved; particularly useful for large displays in showrooms and presentation areas.
Draco ultra KVM extenders are essential to users who need reliable, real-time, high-resolution remote computer content with minimal cabling. They are ideal for professional AV applications in rental and staging, highly secure control centers and virtual reality installations.
Along with other KVM solutions for accessing and managing complex computer networks, the new Draco ultra models will be on show at NAB Las Vegas Apr 9th-12th 2018 Booth  SL10216 South Lower Hall.
 High-Resolution Image: Draco ultra HDMI 1.3 (113 KB)
 High-Resolution Image: Draco ultra DVI-I (117 KB)
 High-Resolution Image: Draco ultra SDI (111 KB)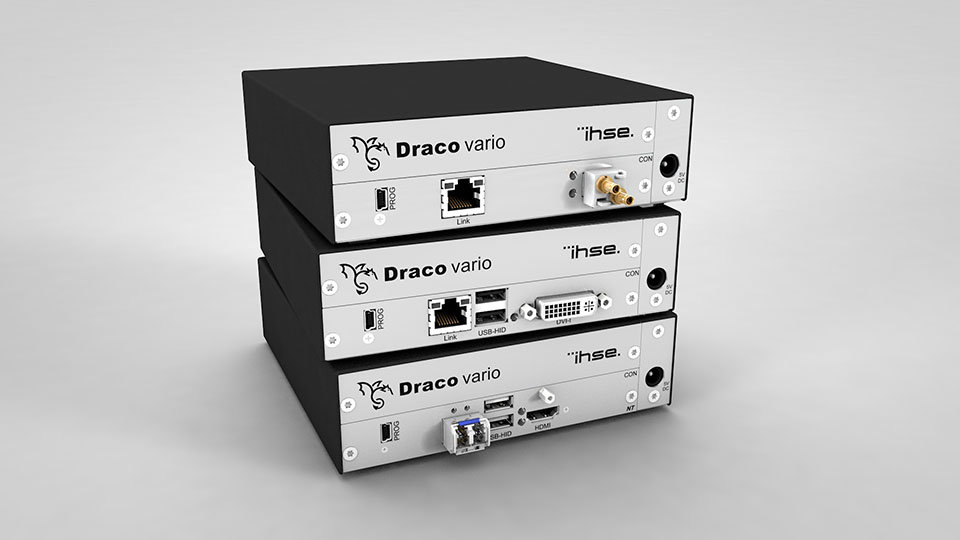 Image shows from top to bottom:
SDI/KVM 496 Series
DVI-I 494 Series
HDMI 1.3 491 Series
Learn more…