FEATURED PRODUCT
Dolby Pro Cinema
Audio,
Imaging &
Dolby Atmos
Dolby Professional Cinema Audio, Imaging & Dolby Atmos Products
Audio Intervisual Design are one of the leading providers and integrators for Dolby Professional Cinema and Atmos products and are one of only 6 Dolby Atmos Mastering Suite dealers worldwide.
AID can help you select the right Dolby products for your workflow and work with you to integrate them into your facility.
AID have expertise in the following Dolby related creative spaces:
Screening rooms
DCI and projection rooms
Color grading suites
Audio Post Editorial Suites
Video Editorial
Dubbing theaters
AID are also a full Dolby Broadcast dealer.
Dolby Atmos for Content Creators
Powerful new tools let audio professionals create, mix, master, and edit high-quality Dolby Atmos content for Blu-ray, digital delivery, gaming, and virtual reality. Everything You Need from Creation to Playback.
Dolby Atmos Mastering Suite
Empower your studio to deliver Dolby Atmos content for Blu-ray and digital delivery. Create, edit, mix, and master high-quality Dolby Atmos content for Blu-ray and digital delivery. Enable Dolby Atmos workflows in editorial and premix rooms with the Dolby Atmos Production Suite. End-to-end content production for linear cinematic and virtual-augmented-mixed reality applications. Quality control (QC) of Dolby Atmos master files.
Dolby Atmos Production Suite
Powerful, affordable tools let you produce immersive Dolby Atmos mixes in Pro Tools. Allows monitoring of content on your Mac without the need for additional hardware. Provides editorial and premix functionality for film and TV content, along with a complete end-to-end workflow for VR content. Enables playback and QC of any Dolby Atmos master file type, greatly simplifying QC workflows for high-value content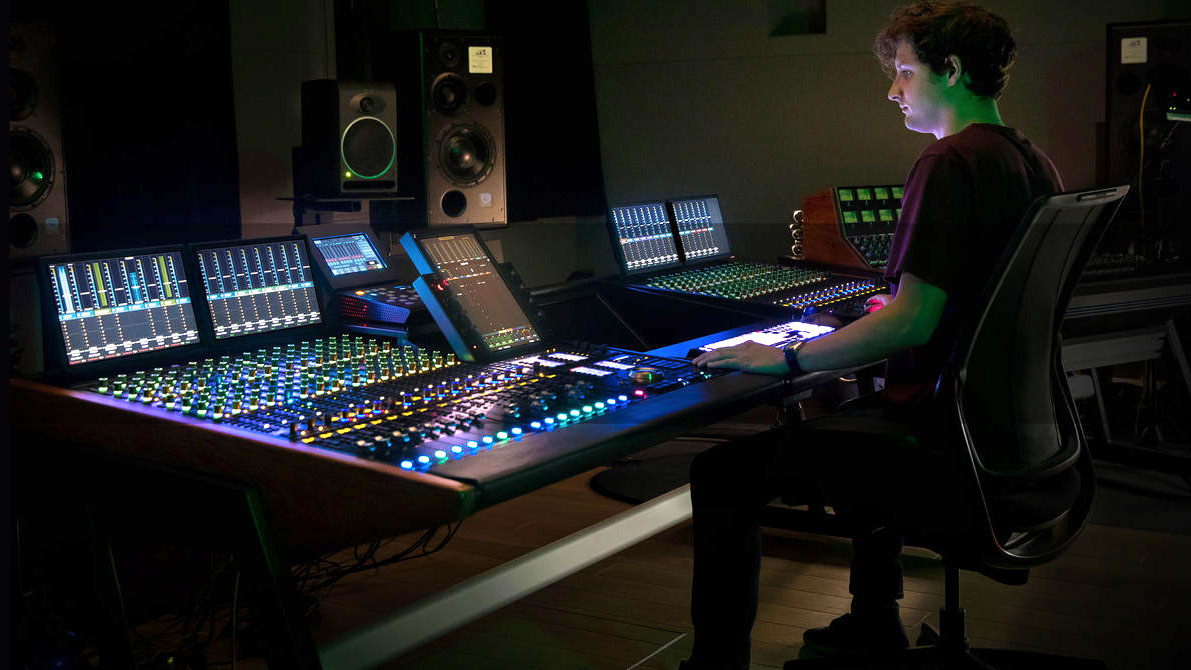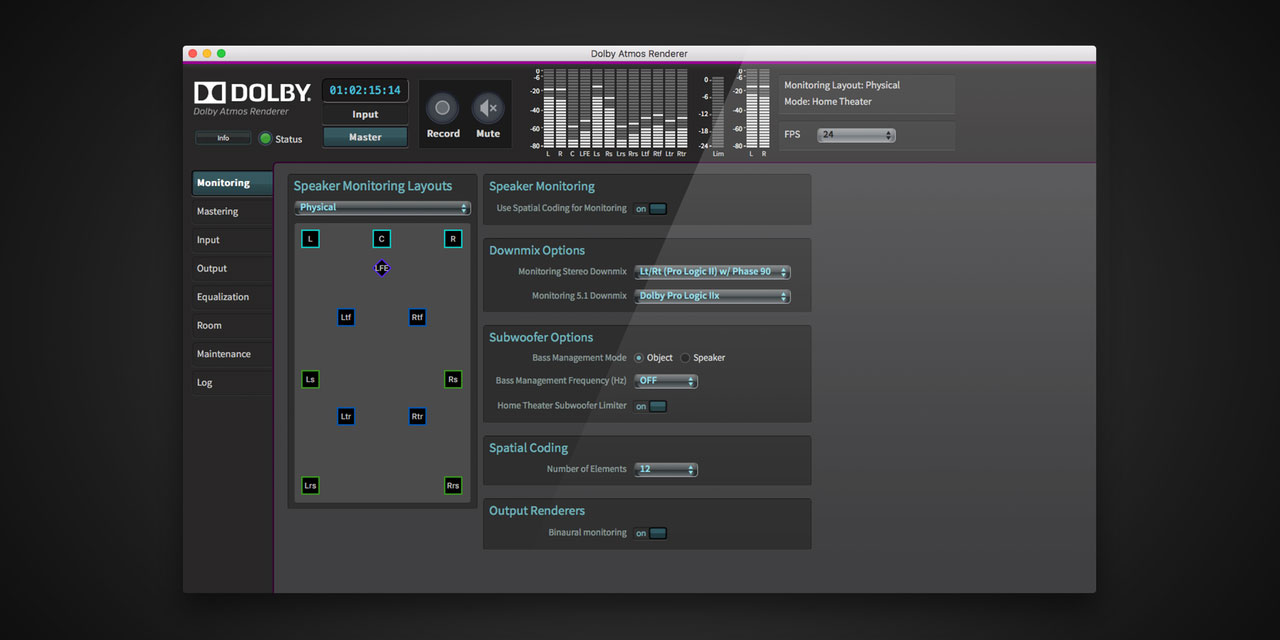 Dolby Atmos Renderer
Dolby Atmos Renderer receives audio and metadata from Pro Tools and creates multichannel speaker outputs, binaural headphone outputs, and channel-based deliverables while also recording and playing back .atmos deliverables.
Run the Renderer software for home theater on a supported CPU for the full power of a Dolby Atmos mastering workflow.
Dolby Atmos Re-Render Output Matrix
Create all your channel-based deliverables from your Dolby Atmos mix.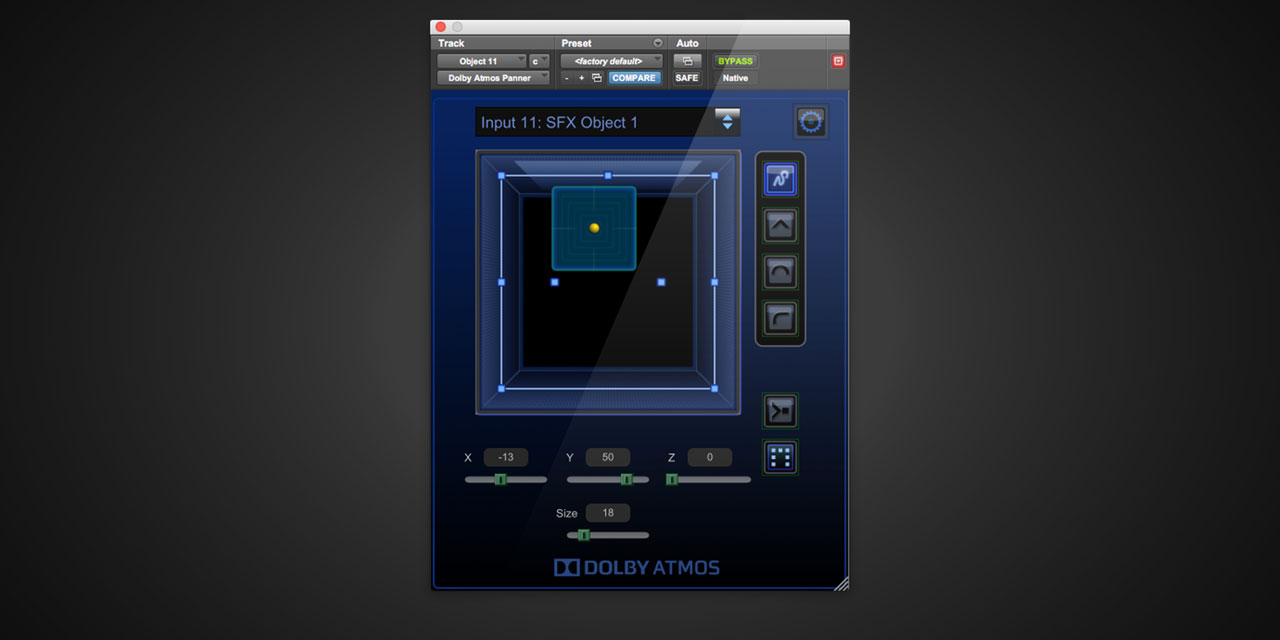 Dolby Atmos Panner Plug-in
The Dolby Atmos Panner plug-in allows you to position audio objects in a 3D space and set playback metadata.
Lets you place audio objects in a 3D space and generates object metadata that is authored with the final content.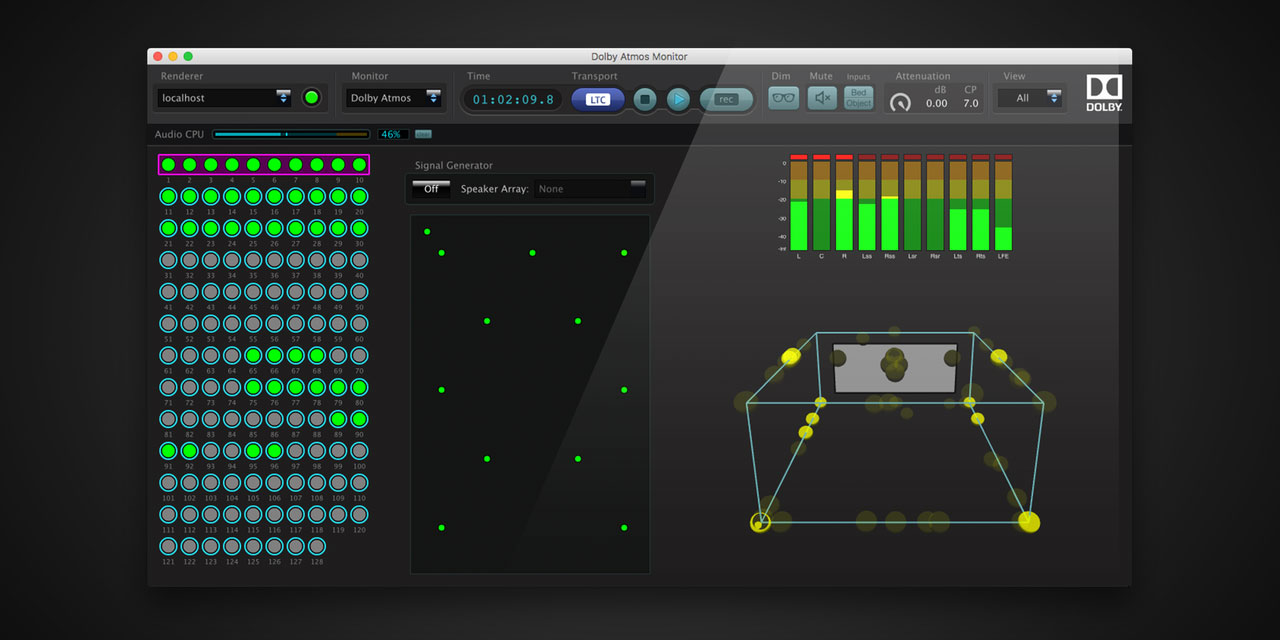 Dolby Atmos Monitor Application
Get visual feedback about your mix including input metering, output metering, and a 3D room view with the Dolby Atmos Monitor.
Provides signal metering and a dynamic view of all mix objects, so you can see where each object is placed in the 3D space.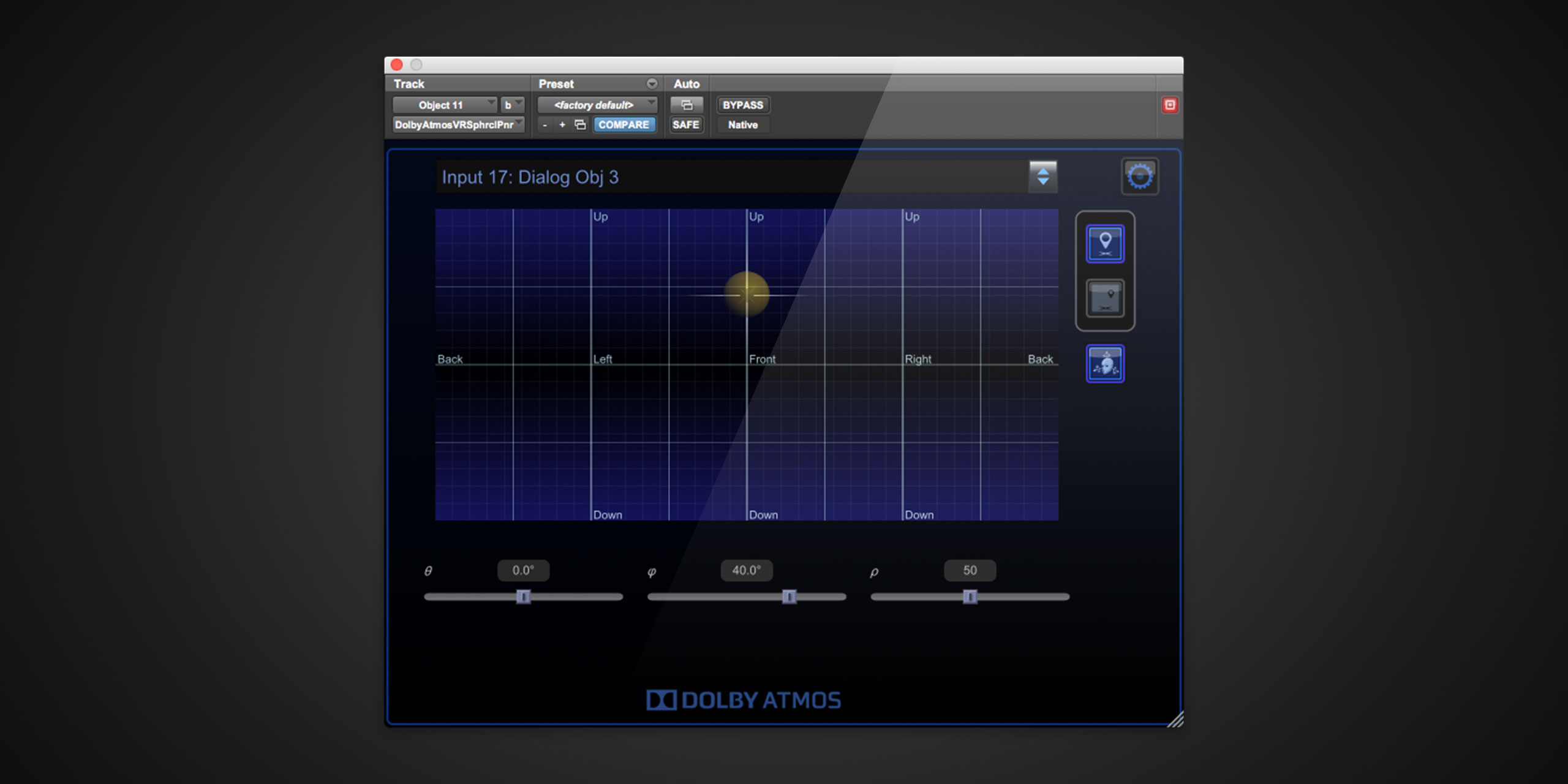 Dolby Atmos VR Spherical Panner plug-in for Pro Tools
Dolby Audio Solutions for Cinema
Dolby's next-generation digital audio cinema processors are flexible enough to fit your budget and theatre, while giving your guests an unforgettable Dolby Atmos® and Dolby Audio™ experience.
Speakers deliver exceptionally clear, powerful sound in a smaller, lighter package.
New rigging systems simplify installation to reduce labor costs and downtime.
And multichannel amplifiers are designed to use less space and produce less heat to lower your overall costs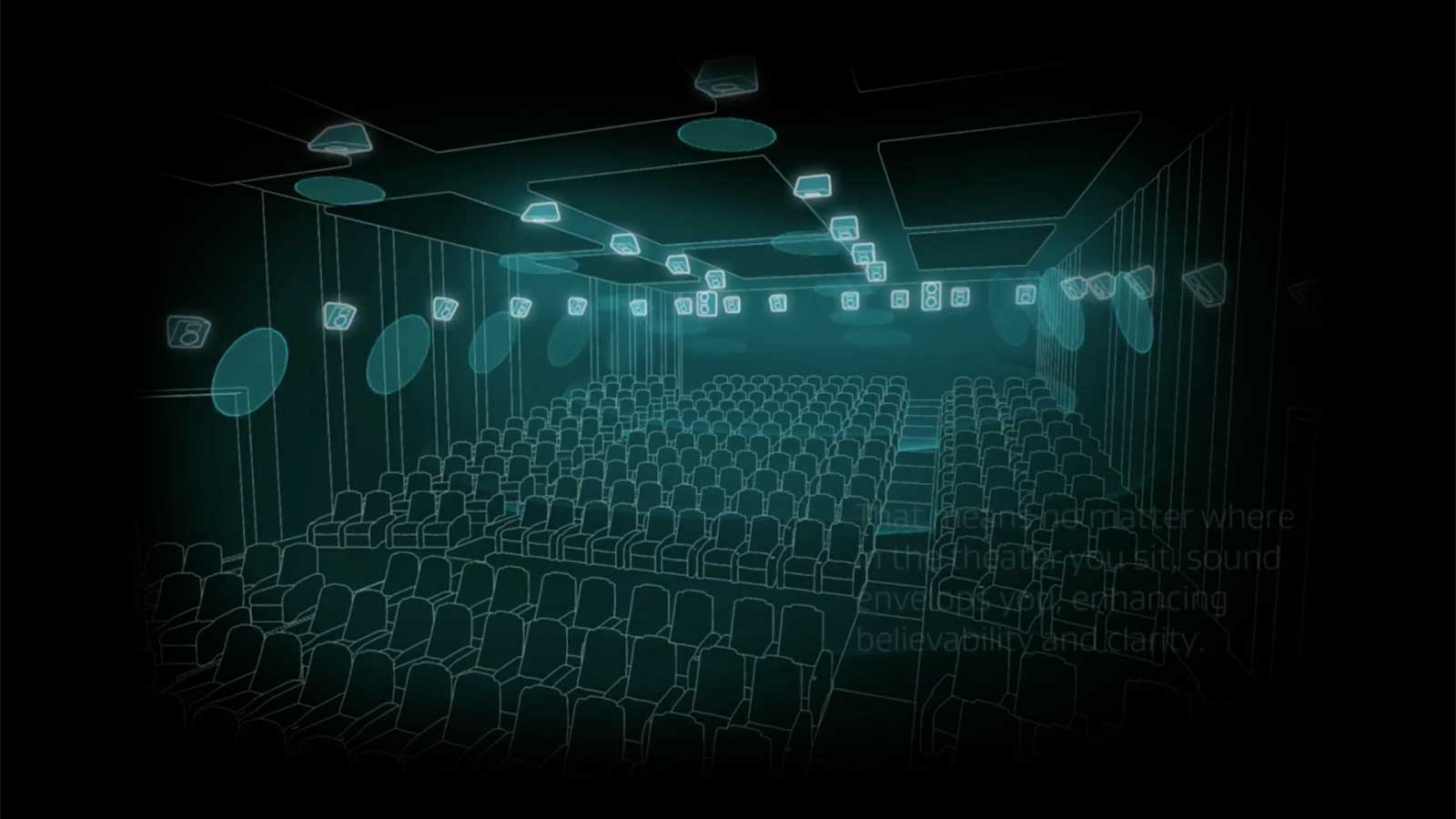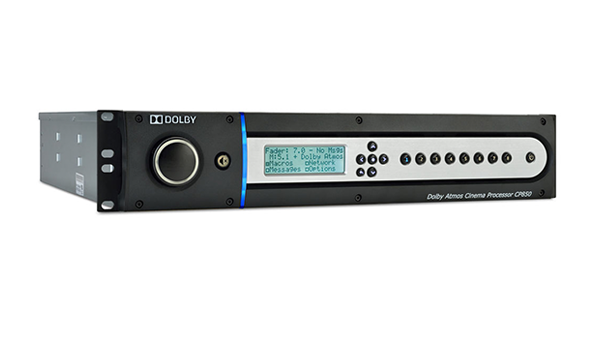 Dolby Atmos Cinema Processor CP850
Dolby Atmos provides a unique approach to cinema audio, giving lmmakers unprecedented power and freedom to realize their creative visions. In your cinema, Dolby Atmos gives audiences moving audio that ows all around them, a natural and enveloping sound experience that fully re ects the original artistic concept.
Renders up to 64 speaker feeds provides an unmatched audience experience
The latest Dolby® Lake EQ and 1/12th octave EQ resolution optimizes playback for all content types, even in acoustically challenged environments
Flexible configurations provide all the common I/O interfaces for the modern digital cinema
Automated calibration ensures consistent, high-quality playback for each movie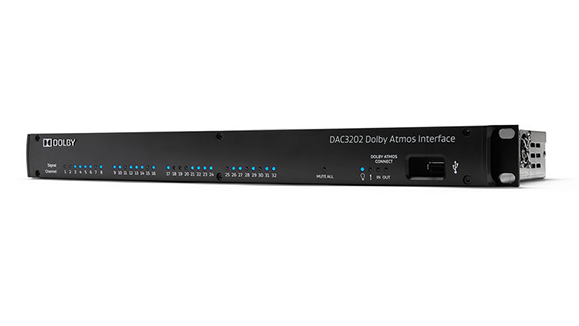 Dolby Atmos Connect Interface DAC3202
The Dolby Atmos® Connect Interface DAC3202 allows you to use legacy amplifiers in Dolby Atmos installations. The Dolby Atmos Connect Interface receives a digital audio stream from a Dolby Atmos Cinema Processor CP850, employing an audio-over-Ethernet protocol.
It then converts the digital audio to analog audio for connection to amplifiers. Each Dolby Atmos Connect Interface offers 32 analog outputs.
A Dolby Atmos Cinema Processor CP850 — together with a single Dolby Atmos Connect Interface — can support up to 48 speaker feeds. Installations with more than 48 speaker feeds will need two Dolby Atmos Connect Interfaces.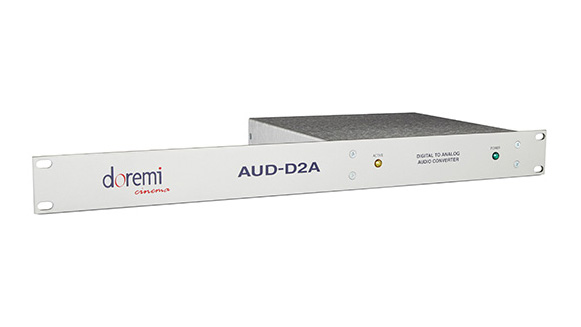 Dolby AUD-D2A Digital-to-Analog Audio Converter
The Dolby® AUD-D2A converts digital audio to analog audio via DB-25 multipin connectors.
The AUD-D2A converts the standard AES digital audio outputs of the Dolby server products to analog audio. Two DB-25 cables and an AC cable are included.
Dolby has acquired cinema-server leader Doremi, increasing the breadth of their offerings and expertise in the highly competitive cinema landscape.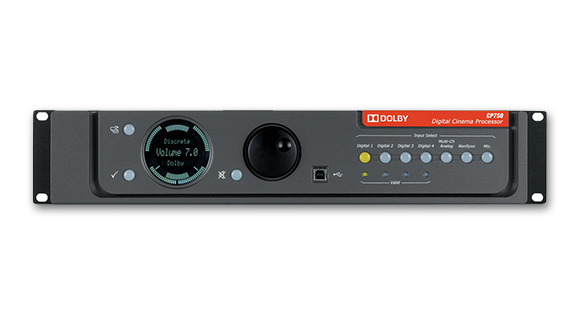 Dolby Digital Cinema Processor CP750
The Dolby® Digital Cinema Processor CP750 provides easy-to-operate audio control in digital cinema environments while integrating seamlessly with existing technologies.
The CP750 supports 5.1 as well as Dolby Surround 7.1 premium surround sound, and it can receive and process audio from multiple digital audio sources, including a digital cinema server, preshow servers, and alternative content sources.
The CP750 is ready for use by a network operations center (NOC) and can be monitored and controlled from anywhere on the network for status and function.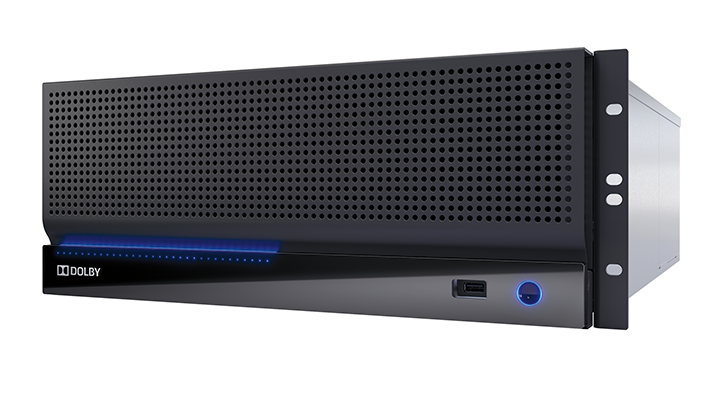 Dolby Multichannel Amplifier
The Dolby® Multichannel Amplifier is an advanced high-density design that can replace up to 16 stereo amplifiers. With less equipment to install, power, and maintain, you get a simpler and more efficient installation.
The Dolby Multichannel Amplifier is available in two configurations, 24 channels or 32 channels.
Dolby Imaging Solutions for Cinema
Spectacular picture for audiences, powerful solutions for you
Maximize your purchasing power and uptime with Dolby's most reliable, innovative, and cost-effective visual technologies for cinema.
Proven on 180,000 screens worldwide and growing, Dolby's integrated media servers and advanced 3D technology are designed to work seamlessly with your existing setup or other Dolby components—and entice your guests to return to your theatre again and again.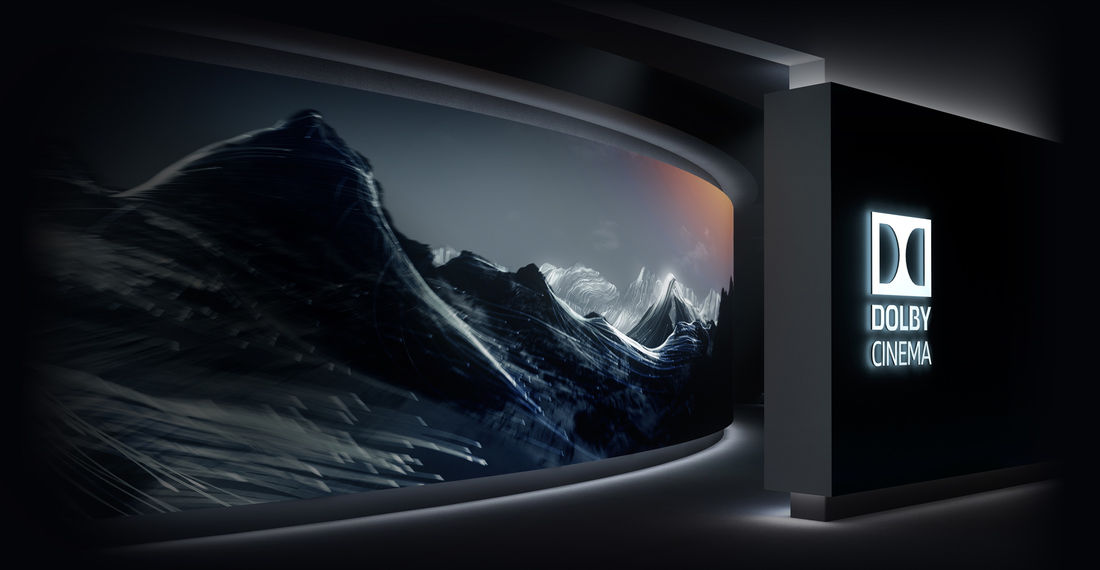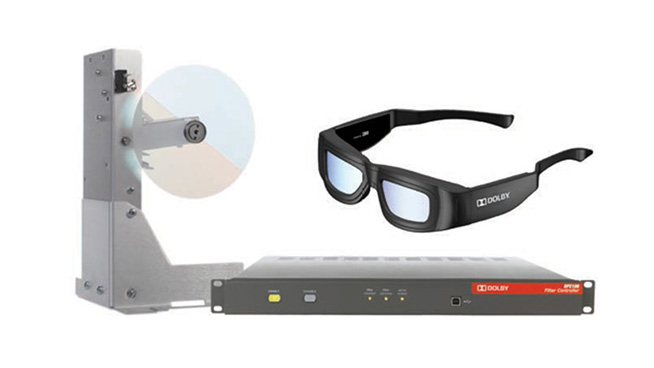 Dolby 3D Bundle
Dolby® 3D differs from other 3D cinema technologies and provides an experience completely faithful to what the movie's creators envisioned. Dolby 3D uses a unique full-spectrum color technology that provides extremely crisp, clear images.
The Dolby 3D movie system has a rotating color filter wheel that can insert automatically into a xenon-based digital projector for 3D movies.
Features of the Dolby 3D Glasses: Comfortable fit over prescription glasses, Wraparound sides ensure a snug, comfortable fit, Modern industrial design, with durable materials and construction, The Sensormatic® tag is compatible with common anti-theft systems.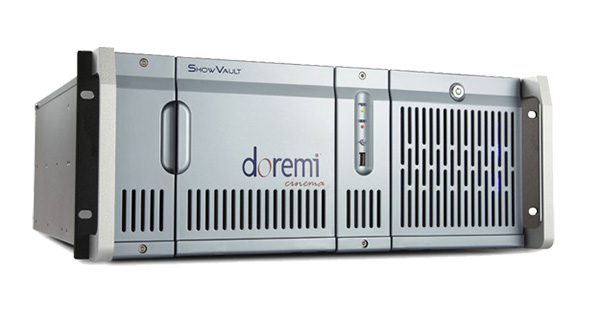 Dolby Storage Server and Integrated Media Block—ShowVault/IMB
The Dolby® ShowVault is a dedicated storage server capable of playing back 2D, 3D, and high-frame-rate (HFR) SMPTE and Interop DCPs, and it has been specifically developed to interface with the Dolby Integrated Media Block (IMB).
The Dolby ShowVault loads digital content and dispenses files electronically to the IMB via an external PCI Express cable. The Dolby IMB also supports deinterlacing of 1080i inputs and automatically converts incoming formats to avoid switching formats on the projector.
All video inputs utilize a single audio output via RJ-45 for simple cabling to your audio processor of choice.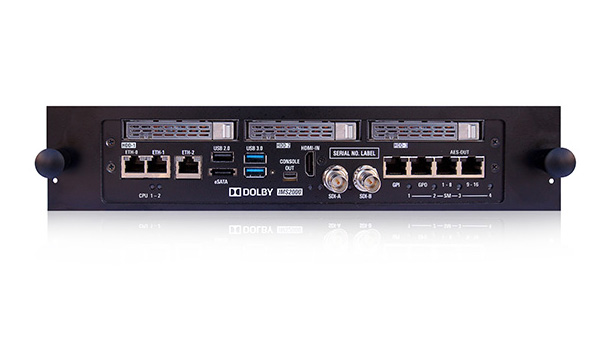 Dolby Integrated Media Server IMS2000
The Dolby® Integrated Media Server IMS2000 is a single-board solution that provides high uptime to keep the show running and protect revenue streams.
The IMS2000 offers cost-effective reliability based on a server platform proven on over 90,000 screens worldwide, plus the flexibility you need for today's cinemas.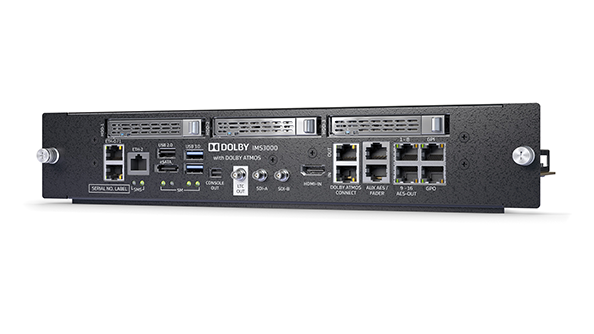 Dolby Integrated Media Server IMS3000
Image and Audio Server in One
An innovative imaging server and audio processor in one, the new Dolby® Integrated Media Server IMS3000 delivers reliability and enables you to show movies with superior sound.
The Dolby IMS3000 increases your purchasing power compared to many other solutions. And you have flexibility with sound: start with Dolby Audio™ 5.1 or 7.1 sound now, and unlock the power of Dolby Atmos® later.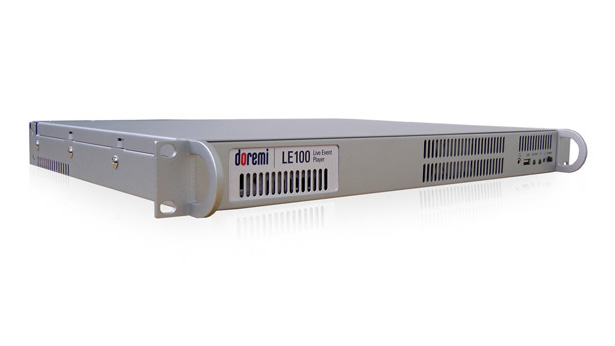 Dolby Live Event Player LE100
The Dolby® LE100 is a 1-U rack unit live broadcast receiver and player that allows live content to be recorded and saved as a DCI-compliant digital cinema package (DCP). The Dolby LE100 also incorporates standard DVR functionality for live and stored events, SNMP for remote monitoring, and a web client interface for setup and control.
The Dolby LE100 plays files with bit rates up to 50 Mbps and has native support for MPEG-2, H.264, and VC-1 codecs. Using either Ethernet or USB, the Dolby LE100 can also accept numerous alternative content file formats for display.
AID Inc.
Contact us to plan your Dolby install
Dolby Atmos
Dolby Atmos creates powerful, moving audio
Dolby Cinema
Industry-Leading Solutions for Cinema