Anonymous Content
Screening Room
System Integration Project
Anonymous Content – Screening Room
Culver City, CA USA
Anonymous Content
Founded in 1999 by CEO Steve Golin, Anonymous Content is a production and management company where talent comes first.
Anonymous Content manages exceptional directors, writers, actors, and comedians, and works closely with them to achieve their goals, whether in feature films, television, commercials, music videos, or brand integrated content.
Concept, Design & Installation
Project Scope: Anonymous Content took over the Culver City location in late 2016 and inherited the shell of a former Film and TV dubbing stage. The projection equipment, furniture and interior had been stripped by the previous tenants. AID was called in to consult on the necessary repairs and and updates to the acoustics and interior as well as re-equip the room with a state of the art projection and sound system. Adding to the challenge was a very tight schedule around the holidays to get the room functioning for Awards season.
Integration: AID worked with Anonymous Content to quickly evaluate the remaining equipment and existing wiring. A plan was formulated to make the necessary repairs and complement with new equipment.
Multiple contractors were brought in to repair the interior and put in a new 4-way motorized screen masking system. New wiring, amps, speakers and processing were installed to complement the 2K DCI projector. The room was short loaded as 7.1 with the ability to easily update to Dolby ATMOS in the future. The projection and sound was integrated with the facility-wide A/V automation system allowing Anonymous Content to play multiple sources from around their campus including AVID and Pix systems.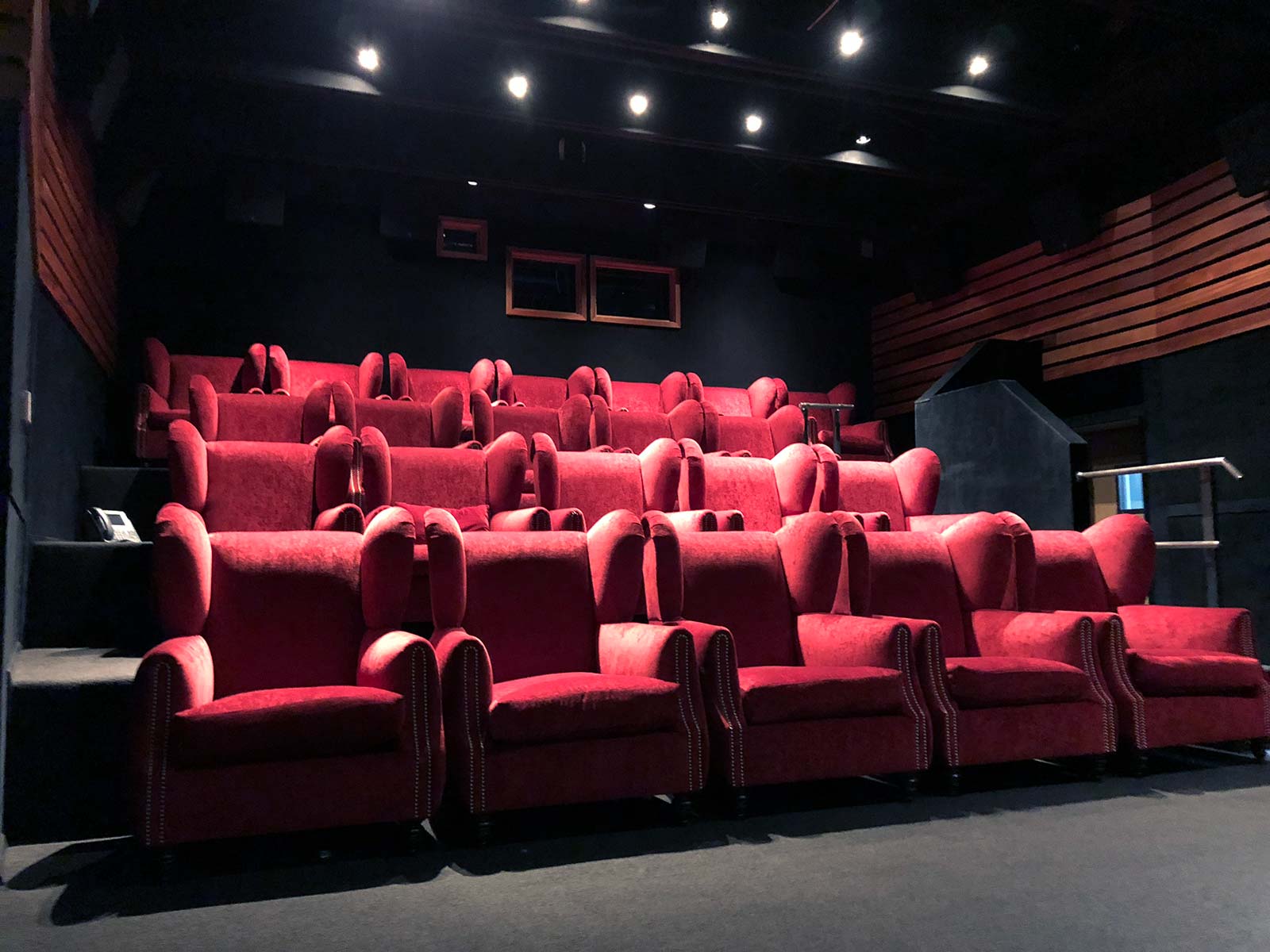 Anonymous Content Installation
Featured Studio Installations
[db_pb_slide heading="Massey" button_text="Learn more" background_image="https://aidinc-web.s3.us-west-1.amazonaws.com/wp-content/uploads/2017/05/09193421/Massey_Console_1600.jpg" background_position="center" background_size="cover" background_color="#ffffff" use_bg_overlay="on" bg_overlay_color="rgba(0,0,0,0.15)" use_text_overlay="off" alignment="center" background_layout="dark" allow_player_pause="off" admin_title="massey" text_border_radius="3" header_font_select="default" header_font="||||" body_font_select="default" body_font="||||" custom_button="off" button_font_select="default" button_font="||||" button_use_icon="default" button_icon_placement="right" button_on_hover="on" button_link="https://aidinc.com/system-integration/paul-massey/" button_icon="%%32%%" use_background_color_gradient="off" background_color_gradient_start="#2b87da" background_color_gradient_end="#29c4a9" background_color_gradient_type="linear" background_color_gradient_direction="180deg" background_color_gradient_direction_radial="center" background_color_gradient_start_position="0%" background_color_gradient_end_position="100%" parallax="off" parallax_method="off" background_repeat="no-repeat" background_blend="normal" ][db_pb_slide heading="Massey" button_text="Learn more" background_image="https://aidinc-web.s3.us-west-1.amazonaws.com/wp-content/uploads/2017/05/09193421/Massey_Console_1600.jpg" background_position="center" background_size="cover" background_color="#ffffff" use_bg_overlay="on" bg_overlay_color="rgba(0,0,0,0.15)" use_text_overlay="off" alignment="center" background_layout="dark" allow_player_pause="off" admin_title="massey" text_border_radius="3" header_font_select="default" header_font="||||" body_font_select="default" body_font="||||" custom_button="off" button_font_select="default" button_font="||||" button_use_icon="default" button_icon_placement="right" button_on_hover="on" button_link="https://aidinc.com/system-integration/paul-massey/" button_icon="%%32%%" use_background_color_gradient="off" background_color_gradient_start="#2b87da" background_color_gradient_end="#29c4a9" background_color_gradient_type="linear" background_color_gradient_direction="180deg" background_color_gradient_direction_radial="center" background_color_gradient_start_position="0%" background_color_gradient_end_position="100%" parallax="off" parallax_method="off" background_repeat="no-repeat" background_blend="normal" ][db_pb_slide heading="Massey" button_text="Learn more" background_image="https://aidinc-web.s3.us-west-1.amazonaws.com/wp-content/uploads/2017/05/09193421/Massey_Console_1600.jpg" background_position="center" background_size="cover" background_color="#ffffff" use_bg_overlay="on" bg_overlay_color="rgba(0,0,0,0.15)" use_text_overlay="off" alignment="center" background_layout="dark" allow_player_pause="off" admin_title="massey" text_border_radius="3" header_font_select="default" header_font="||||" body_font_select="default" body_font="||||" custom_button="off" button_font_select="default" button_font="||||" button_use_icon="default" button_icon_placement="right" button_on_hover="on" button_link="https://aidinc.com/system-integration/paul-massey/" button_icon="%%32%%" use_background_color_gradient="off" background_color_gradient_start="#2b87da" background_color_gradient_end="#29c4a9" background_color_gradient_type="linear" background_color_gradient_direction="180deg" background_color_gradient_direction_radial="center" background_color_gradient_start_position="0%" background_color_gradient_end_position="100%" parallax="off" parallax_method="off" background_repeat="no-repeat" background_blend="normal" ][db_pb_slide heading="Massey" button_text="Learn more" background_image="https://aidinc-web.s3.us-west-1.amazonaws.com/wp-content/uploads/2017/05/09193421/Massey_Console_1600.jpg" background_position="center" background_size="cover" background_color="#ffffff" use_bg_overlay="on" bg_overlay_color="rgba(0,0,0,0.15)" use_text_overlay="off" alignment="center" background_layout="dark" allow_player_pause="off" admin_title="massey" text_border_radius="3" header_font_select="default" header_font="||||" body_font_select="default" body_font="||||" custom_button="off" button_font_select="default" button_font="||||" button_use_icon="default" button_icon_placement="right" button_on_hover="on" button_link="https://aidinc.com/system-integration/paul-massey/" button_icon="%%32%%" use_background_color_gradient="off" background_color_gradient_start="#2b87da" background_color_gradient_end="#29c4a9" background_color_gradient_type="linear" background_color_gradient_direction="180deg" background_color_gradient_direction_radial="center" background_color_gradient_start_position="0%" background_color_gradient_end_position="100%" parallax="off" parallax_method="off" background_repeat="no-repeat" background_blend="normal" ]
[/db_pb_slide][/db_pb_slide][/db_pb_slide][/db_pb_slide]