PRO TOOLS
Software
& Interfaces
Choose the Right System
Meet the New Pro Tools Family
EXPRESS YOURSELF
MUSIC CREATION
When inspiration strikes, nothing empowers your creativity like Pro Tools. That's why top artists, musicians, and audio professionals choose it for everything they do.
Record + produce – Capture performances and compose music at the speed of inspiration
Edit – Reshape sounds, fix issues, and edit with ultimate precision
Mix + master – Create professionak-quality mixes faster, with finesse
MOVE AUDIENCES WITH SOUND
AUDIO POST PRODUCTION
Power your sound with the tools that power the industry. Pro Tools redefines what's sonically possible in film and television.
Conform and edit – Design dynamic sonic environments for film, TV and video projects
Mix + deliver – Handle the largest, most comlex mixes with speed and ease
Immersive audio – Mix Dolby Atmos, Ambisonics and other 3D sound productions
Pro Tools Integration with AID
Practically every system integration project we mange includes industry standard Pro Tools, and as one of the leading Avid Pro Tools resellers we know how to put together systems to fit your workflow and budget for music and audio post applications.
Pro Tools | HD is now renamed as Pro Tools | Ultimate and offers the Avid Complete Plug-in Bundle and Pro Tools | MachineControl included with all Pro Tools | Ultimate subscriptions and 1-Year Software Updates + Support Plans.
Pro Tools, Dolby Atmos & AID
Pro Tools now includes deeper Dolby Atmos integration and we are one of only 6 Dolby Atmos Mastering Suite dealers worldwide. There are a large number of options available for purchasing Pro Tools including subscription (rental), perpetual, cross grades and upgrades. Let us help you make the right decisions and also assist in packaging Pro Tools with other 3rd party hardware and software options.
Contact us directly to find out what we can do to include these new workflows into your media productions. 
Pro Tools | Ultimate software?
Pro Tools or Pro Tools | Ultimate, that is the question.
For professionals who need the ultimate editing, mixing automation features, surround sound, Dolby Atmos, high track and I/O counts, Pro Tools | Ultimate is the only choice, it's as simple as that.
The majority of AID sales are for Ultimate (formally called HD) systems, either as standalone Pro Tools | Ultimate software or as part of larger HDX DSP based systems.
Check out this Avid page for full comparisons between versions.
Get Pro Tools Ultimate
Pro Tools Ultimate can be purchased as a perpetual license for $2,599 or as a yearly subscription for $799 and as an upgrade. Pro Tools | Ultimate also comes included with Pro Tools | HD Native and can be bundled with an HDX card. See below for details about how to buy.
Pro Tools | HDX
DSP or Native?
There is a lot of debate about Native vs DSP, and for many people who have less demanding applications the addition of an HDX DSP card is unnecessary, especially with ultra fast processors now available on laptops and workstations. So what factors should you consider when making the decision?
Main HDX DSP Advantages:
Large Track/Plug-in Counts – Pro Tools | HDX supports larger track counts (see the graphic above), higher plug-in counts, and multiple HD videos that can tax even the fastest systems
Reliability – In a professional environment you need to guarantee the system won't give up at a critical moment due to high track counts and too many plug-ins. HDX can take the load off your computer by using AAX DSP plug-ins.
Low Latency – When recording multiple sources, especially for music, it is essential that you have the absolute lowest latency and HDX provides this. Recording 24 mics and sending back cue feeds from Pro Tools requires HDX.
High Sample Rates – 96kHz and 192kHz recording and mixing really pushes even the fastest computers to the edge.
New Thunderbolt Chassis
Bring the power of HDX to your desktop or studio rack with the Pro Tools | HDX Thunderbolt 3 Chassis, which can house a single HDX PCIe card (not included).
I think I can manage without HDX?
No problem, you can buy ($2,599) or subscribe ($799 per annum) or upgrade to Pro Tools | Ultimate software and try it on your sessions to see if you can manage. HDX cards are now available on their own with ($5,799), or without ($3,999) Pro Tools | Ultimate software so you can add HDX if needed.
How to Buy Pro Tools Software
While some companies such as Adobe opt for a subscription only model, that always includes latest updates, Avid have taken more sensible approach by offering both perpetual licenses and subscription as well as including access to updates, giving you a much wider choice.
This wider choice comes with a more confusing set of purchase options so let's take a closer look:
Subscription and Perpetual Licenses
Subscription – Monthly ($34.99 pm) or yearly ($29.99 pm) for Pro Tools, yearly ($799) for Ultimate. You get the ability to continually upgrade to the latest software and support at a lower initial cost, however if you stop payments the software no longer works after the subscription period expires. Best option for professionals that always use the software or only need the software for a short period of time. Easy way to get back up to the latest version.
Perpetual – up front purchase with a year of support and upgrades ($599 Pro Tools, $2,599 Ultimate). You always get to keep the software but unless you purchase the yearly Annual Upgrade and Support Plan you cannot get further updates after your year has expired.
Considerations Between Perpetual or Subscription?
If you are a professional, or a multi-station facility, and always use the software get a subscription, it's easier to manage. If you cancel and then want to open an old session you will have to subscribe again, or you can just subscribe for a month.
For those that worry about not being able to open sessions at a later date, if you have canceled a subscription, or if you don't need to keep up to date with new releases, a perpetual license is a better option as you will always have the software. If you go with a perpetual license and you want the latest features make sure you always purchase the Annual Upgrade and Support Plan on time.
Upgrades and Offers
Avid are continually offering various incentives for you to purchase and upgrade, including hardware upgrades. Contact us directly to find out the best upgrade option for your particular situation.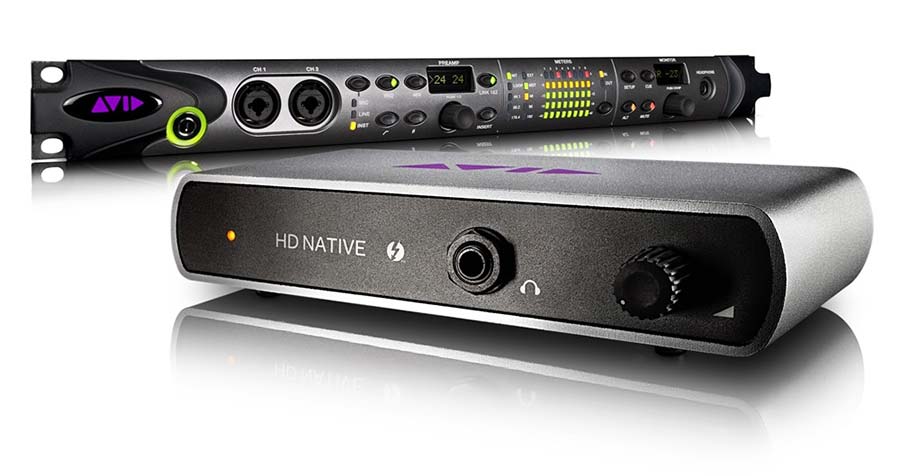 Interfaces for Pro Tools
You now have more choices than ever when selecting the right interfaces for your workflow. Avid has opened up Pro Tools | Ultimate software and Pro Tools | HDX cards to work with their own as well as 3rd party interfaces.
AID can help you to select the right software/DSP/Interface combination to fit your needs as we represent over 200 brands of products.
Avid Interfaces
There are 11 Avid interface options and can be found in most professional Ultimate installations:
Carbon, HD I/O 8x8x8, HD I/O 16×16 Analog, HD I/O 16×16 Digital, HD I/O AD Option, HD I/O DA Option, HD I/O Digital Option, MADI, HD OMNI, SYNC HD, PRE
3rd Party Interfaces & DigiLink
Pro Tools software works with any interface, however HDX systems require the interface includes the Digilink I/O connector and you must buy the Pro Tools | Digilink I/O License for $299 to connect to these 3rd party interfaces.
Work with up to 192 input channels using Pro Tools | HDX (with 3 cards) and access up to 64 input channels using Pro Tools | HD Native.
Interfaces such as the Focusrite Red range include Digilink and access to Dante networks. Since we represent many top interface brands we can help you select a set of interfaces for a single edit/project room or a complete networked facility.
AID Inc.
Contact us to plan your Pro Tools install
Avid Pro Tools
Industry Standard Pro Tools Software
Avid S6
The Ultimate Scaleable DAW Controller