DAD MOM
for AX32 DX32R and Avid MTRX
NTP Technology DAD Monitor Controller for AX32 DX32R and Avid MTRX
Digital Audio Denmark debuts third-generation MOM monitor controller
DAD (Digital Audio Denmark) has announced its third-generation MOM monitor controller, which is compatible with any DAD AX32 or DX32R—or Avid MTRX—unit with the optional Pro|Mon|3 monitor control license is now shipping and available from USA DAD dealers.
The MOM unit was born for taking hands-on control of the monitoring side of any DAD AX32 or DX32R unit with the optional Pro | Mon | 3 monitor control license. With this new, third incarnation of Pro | Mon, DAD takes monitor control as an integrated part of its AX32 and DX32R units to a whole new level and via the new desktop MOM Unit that offers layered control functionality, as well as easy operation directly from the work space, the control now gets tactile.
Multiple monitors and cue outputs in various channel formats can be configured and controlled from one or more hardware MOM's with individual cue mix functionality and dedicated monitor mixing, adjustable parameters include level, pan, cut, mute and even downmix from, for example, for a 7.1 multichannel format. All settings and configuration can be saved and recalled, allowing monitor configurations to be changed quickly and easily.
"In a world that seems to be gradually moving towards working and mixing 'in the box', there are still situations where hands-on control is second to none. Monitor control is one of those cases," says DAD Sales Director Mikael Vest. "And MOM is the perfect, tactile match for one or more AX32 and DX32R units equipped with the PRO|MON|3 monitor control license. It simply connects via Ethernet, and the actual audio-routing magic happens within the AX32 or DX32R and is set up via the DADman software. Only, with the addition of MOM, the magic now resides right at your fingertips, regardless of whether the signal format is 64 or 9.1.6 channel Dolby Atmos, mono or anything in between."
Seamless Integration and Synchronization
MOM is ready to enter any AX32, DX32R or Avid MTRX-based production environment and will integrate seamlessly with your setup. Thanks to its compatibility with the EUCON control protocol, MOM will easily synchronize and co-exist with other control surfaces, including Avid's S3 and S6 consoles, Dock Control and the Pro Tools Control App for Apple's iPad.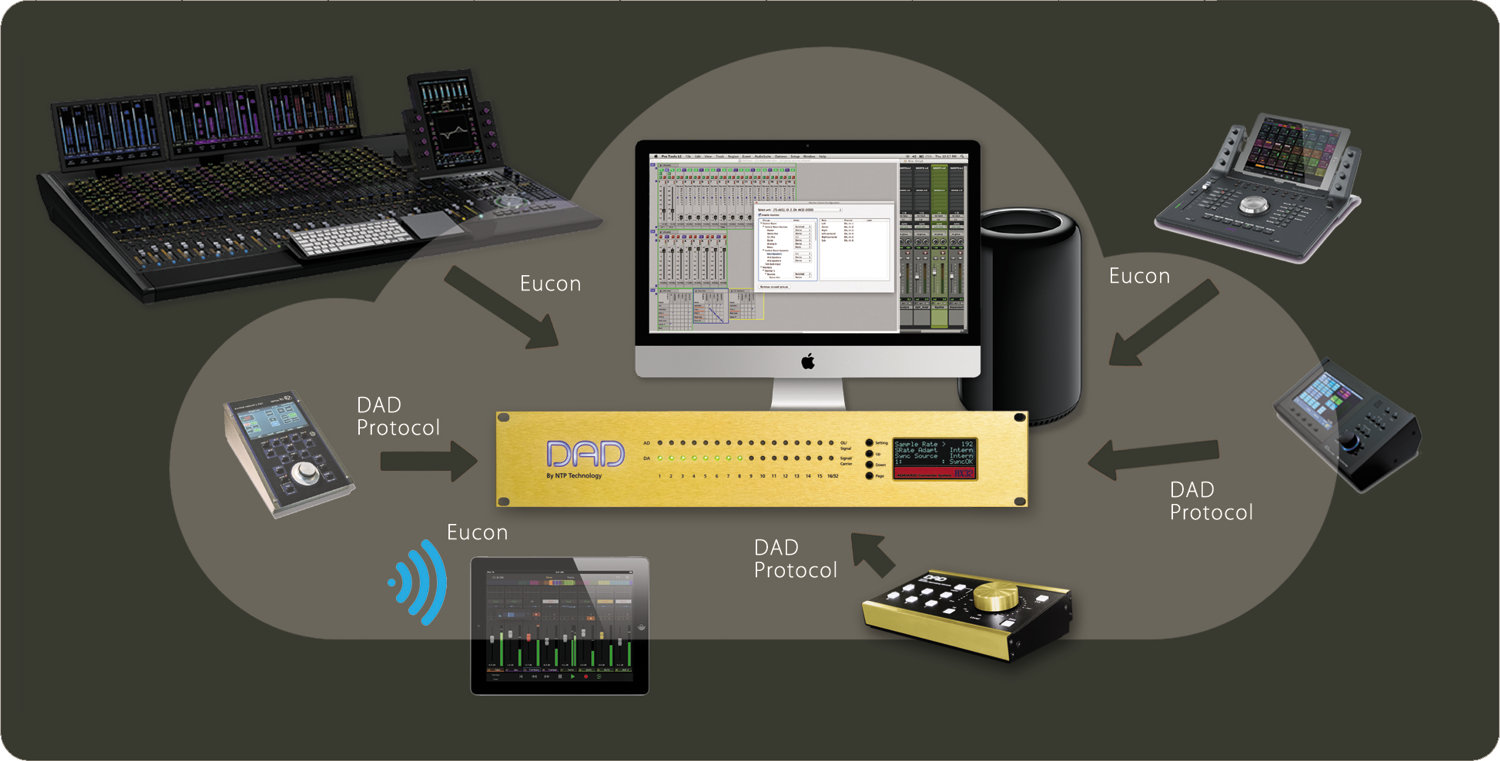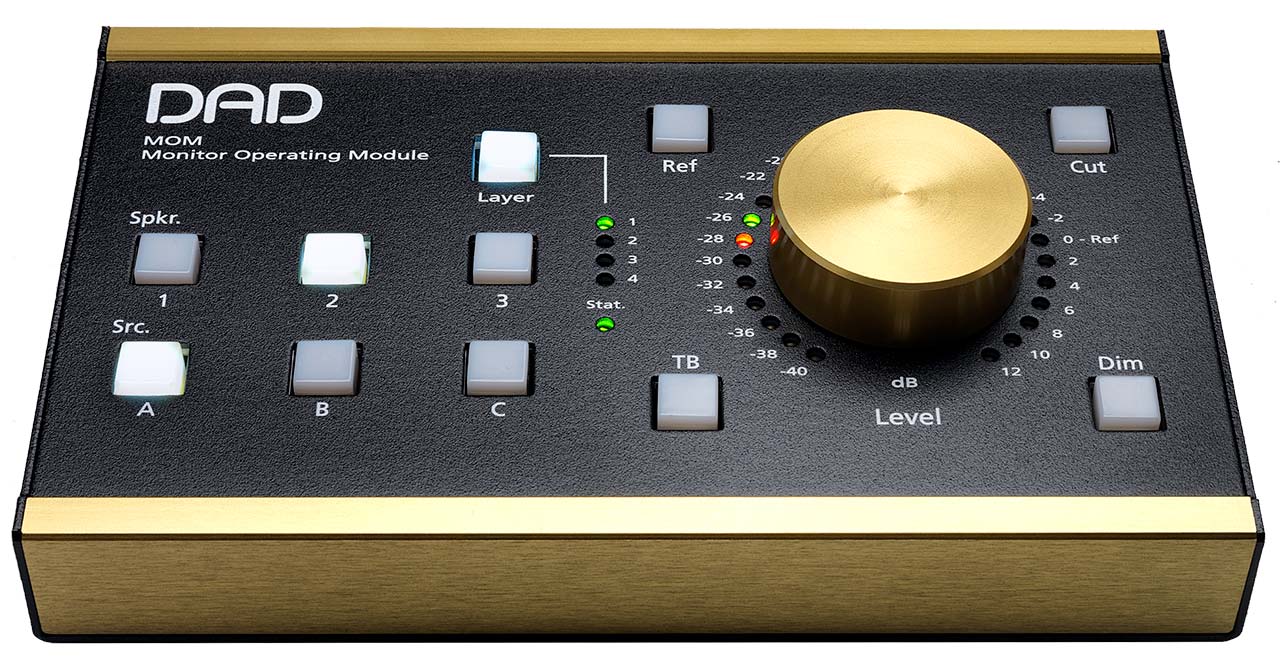 DAD Monitor Operating Module (MOM)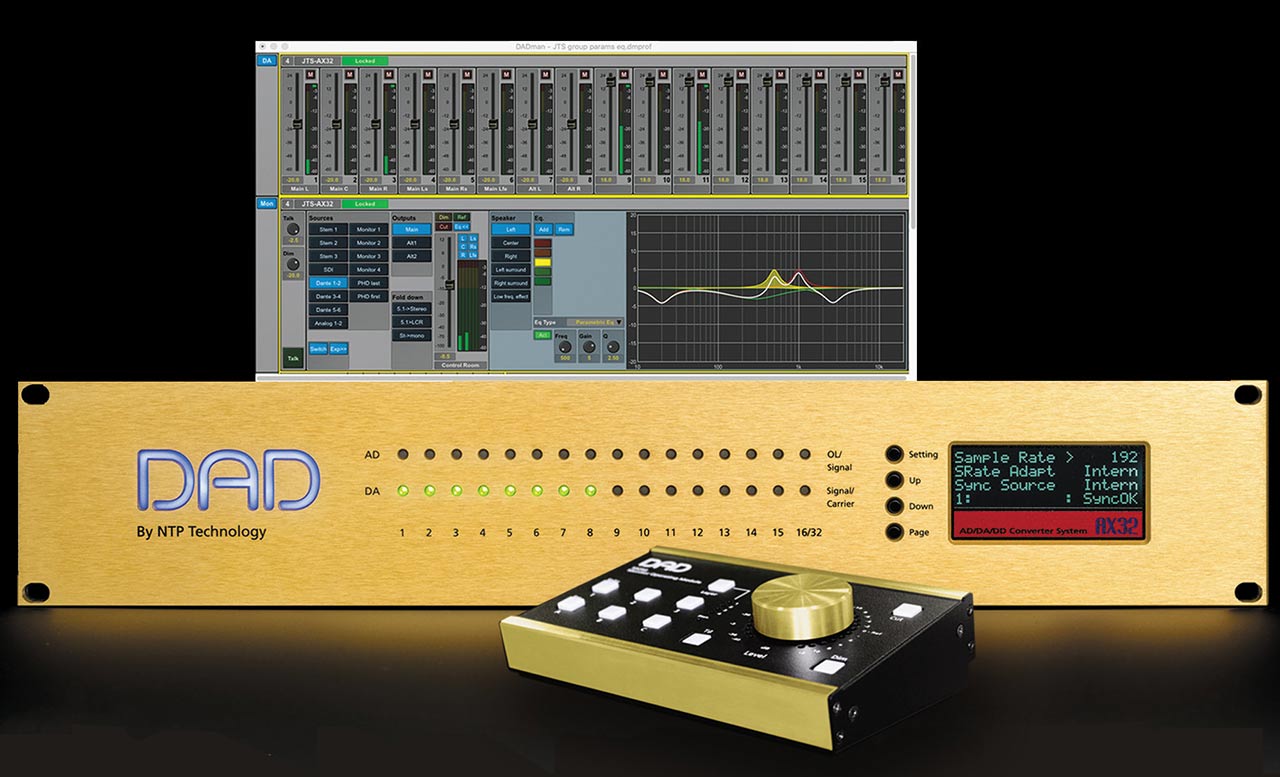 New Pro | Mon | 3 monitor control software for the AX32 audio-routing and converter interfaces, along with the MOM hardware controller and speaker-correction processing for up to a full 64 channel Dolby Atmos setup, is here. Contact Audio Intervisual Design for more details and pricing.
Learn more…
MOM Info on NTP Technology web