Feature
Article
HDMI
Test Kit
How often have you wished for a stand-alone HDMI test set?
DVM-HDT-KIT GENERATOR is part of programmable HDMI UHD (Ultra High Definition) Test Instrument family of products and is in functionality Pattern Generator, packed with features for video and audio testing of HDMI® sources, sinks and repeaters. DVM-HDT-KIT GENERATOR generates full range of resolutions with its maximum of 4K@ 60Hz 4:2:0 signal which is recently defined in HDMI® 2.0 specification, and does generate all actually available HDMI and DVI digital signals.
DVM-HDT-KIT GENERATOR has built in 3.0" (inch) LCD display that will show graphic implementation of actually generated Pattern and settings menu, including output signal settings & parameters.
Professional, programmable sine wave generator is integrated for performing sophisticated audio tests and when need for specific stereo audio auxiliary audio source to be embedded into HDMI® output, 3.5 mm stereo socket is available on rear panel to be connected to practically any unbalanced 1V/pp stereo analog audio source.
The DVM-HDT-KIT GENERATOR is highly programmable via RS232, USB or TCP/IP with included PC based Control software. For purpose of creating large test systems with multi device measurement protocol functionality, customers can use the RS232 output to connect to next unit. Thanks to this functionality, users can set up a large test system with multiple DVM-HDT-KIT generators to test UHD distribution devices or complex UHD networks.
Two versions are available both with Analyser and Generator, either rack mounted (top) or portable (bottom) shown opposite.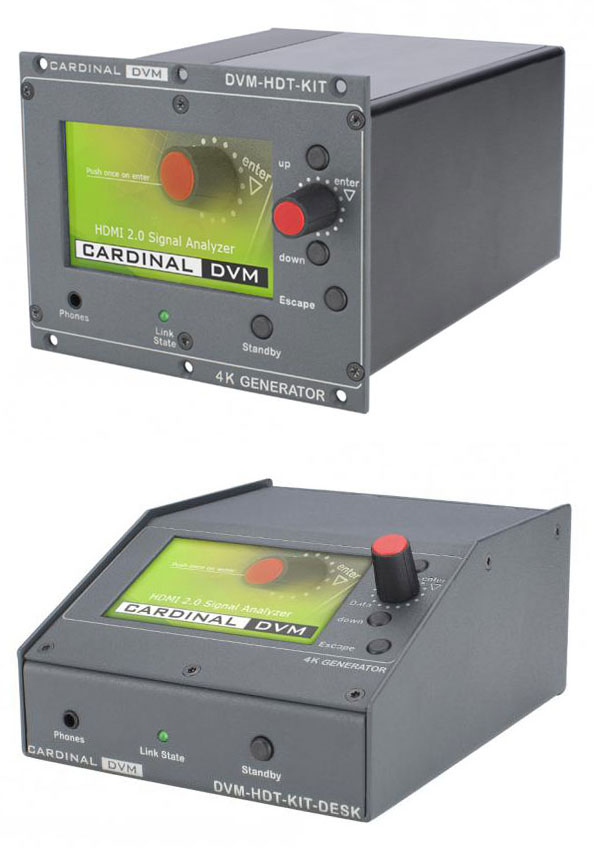 DVM-HDT-KIT features:
high-performance FPGA platform
supports HDMI ® 2.0 up to 4K x 2K (24/25/30/50/60 Hz plus 3D)
supports all common colour rooms (RGB4:4:4, YUV4:4:4, YUV4:2:2 and YUV4:2:0)
supports HDCP 2.2 (HDCP switchable: off/1.4/2.2)
integrated 3" IPS displays 16:9 (240p) in generator and analyzer
"What You See Is What You Get" – you can watch in realtime on the display what's happening at the input/output
intuitive control by local rotary encoder & keys on the unit, via RS232, USB or ethernet
front panel headphone socket for signal control
available as mobile version for the toolcase or rackmount set with 2 x ¼ 19" 2RU (for SYSBOXX or 2RU 19" module carrier)
DESK version with built-in battery packs
low power consumption
PC software included for checking individual devices and also large device compounds
integrated cable check function
optional reporting function for generating test protocols (incl. printout/download)
super compact housings (¼ 19" – 2 HE)
DESK version with foam inlay for toolcase
incl. 2 x HDMI ® cables HIMM of 1.5 m (4.921 ft. length)
incl. 2 x 24V chargers (4-pole XLR)
Generator Features:
34 different test patterns (33 x 2D, 1 x 3D)
43 different generator resolutions (including ten userdefinable and one automatic resolution)
Integrated EDID memory for up to 10 EDID sets
EDID information can be read, modified, and written back
Audio tests through integrated clock generator (8 different sample rates 32K, 44K, 48K, 88K, 96K, 176K, 192K, and auto) or through external 2.0 mini jack input
Analyzer Features:
Extensive signal analysis capabilities
Audio metering display for 8 channels in real-time
Real-time signal monitoring with error counters
Integrated EDID memory for up to 14 EDID sets (including 10 user-definable)
HDMI ® input can be activated or deactivated via software for on/off switching simulations