LADB
Los Angeles Distribution
& Broadcasting
Screening Room
System Integration Project
LADB Los Angeles Distribution & Broadcasting
Burbank, CA
LADB
LADB is a customer focused secure digital media and content processing facility offering its expertise in a wide variety of quality and cost-effective services with fast results. In 2002, LADB began offering its unique services to several major Hollywood studios and TV networks, as well as over 200 other production companies and leading streaming distributors. With their constantly updated infrastructure and rapid turnaround services, LADB began a steady rise as a trusted name when their clients need something done quickly and correctly.
LADB handles encoding, content security, duplication, replication, localization, conversion, workflow consulting, and a wide range of digital services for any media format.
Concept, Design & Installation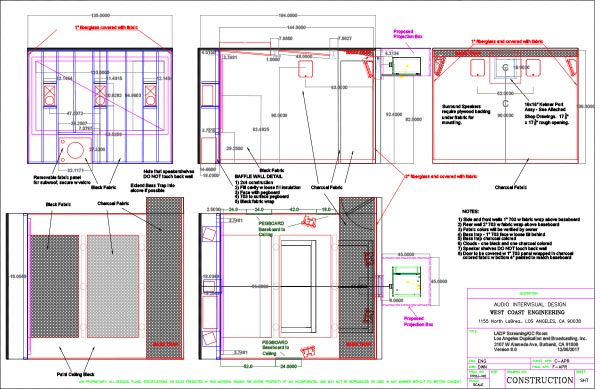 Project Scope: LADB needed a DCI 7.1 channel screening room to do internal quality control and client review of Digital Cinema Packages they create and distribute for limited releases. LADB had extremely limited physical space in their Burbank plant to add a screening room.
Integration: The challenge was to design, build and install a screening room in a tight space with a very compressed schedule and limited budget.
The interior of the screening room is approximately 12 feet long with a 9ft ceiling and was converted from general office space. The Digital Cinema projector selected was designed to work in a much larger theater so careful consideration of screen brightness, optics and wall treatments was necessary to ensure the picture would meet DCI specifications.
AID Inc. designed the acoustics and layout of the screening room, coordinated the build out with the General Contractor, and supplied and installed all the audio and projection components.
Los Angeles Distribution & Broadcasting Screening Room Installation
Prior to Install - Entrance to Projection Room on Left and Screening Room on Right
Featured Studio Installations
[db_pb_slide heading="Massey" button_text="Learn more" background_image="https://aidinc-web.s3.us-west-1.amazonaws.com/wp-content/uploads/2017/05/09193421/Massey_Console_1600.jpg" background_position="center" background_size="cover" background_color="#ffffff" use_bg_overlay="on" bg_overlay_color="rgba(0,0,0,0.15)" use_text_overlay="off" alignment="center" background_layout="dark" allow_player_pause="off" admin_title="massey" text_border_radius="3" header_font_select="default" header_font="||||" body_font_select="default" body_font="||||" custom_button="off" button_font_select="default" button_font="||||" button_use_icon="default" button_icon_placement="right" button_on_hover="on" button_link="https://aidinc.com/system-integration/paul-massey/" button_icon="%%32%%" use_background_color_gradient="off" background_color_gradient_start="#2b87da" background_color_gradient_end="#29c4a9" background_color_gradient_type="linear" background_color_gradient_direction="180deg" background_color_gradient_direction_radial="center" background_color_gradient_start_position="0%" background_color_gradient_end_position="100%" parallax="off" parallax_method="off" background_repeat="no-repeat" background_blend="normal" ][db_pb_slide heading="Massey" button_text="Learn more" background_image="https://aidinc-web.s3.us-west-1.amazonaws.com/wp-content/uploads/2017/05/09193421/Massey_Console_1600.jpg" background_position="center" background_size="cover" background_color="#ffffff" use_bg_overlay="on" bg_overlay_color="rgba(0,0,0,0.15)" use_text_overlay="off" alignment="center" background_layout="dark" allow_player_pause="off" admin_title="massey" text_border_radius="3" header_font_select="default" header_font="||||" body_font_select="default" body_font="||||" custom_button="off" button_font_select="default" button_font="||||" button_use_icon="default" button_icon_placement="right" button_on_hover="on" button_link="https://aidinc.com/system-integration/paul-massey/" button_icon="%%32%%" use_background_color_gradient="off" background_color_gradient_start="#2b87da" background_color_gradient_end="#29c4a9" background_color_gradient_type="linear" background_color_gradient_direction="180deg" background_color_gradient_direction_radial="center" background_color_gradient_start_position="0%" background_color_gradient_end_position="100%" parallax="off" parallax_method="off" background_repeat="no-repeat" background_blend="normal" ][db_pb_slide heading="Massey" button_text="Learn more" background_image="https://aidinc-web.s3.us-west-1.amazonaws.com/wp-content/uploads/2017/05/09193421/Massey_Console_1600.jpg" background_position="center" background_size="cover" background_color="#ffffff" use_bg_overlay="on" bg_overlay_color="rgba(0,0,0,0.15)" use_text_overlay="off" alignment="center" background_layout="dark" allow_player_pause="off" admin_title="massey" text_border_radius="3" header_font_select="default" header_font="||||" body_font_select="default" body_font="||||" custom_button="off" button_font_select="default" button_font="||||" button_use_icon="default" button_icon_placement="right" button_on_hover="on" button_link="https://aidinc.com/system-integration/paul-massey/" button_icon="%%32%%" use_background_color_gradient="off" background_color_gradient_start="#2b87da" background_color_gradient_end="#29c4a9" background_color_gradient_type="linear" background_color_gradient_direction="180deg" background_color_gradient_direction_radial="center" background_color_gradient_start_position="0%" background_color_gradient_end_position="100%" parallax="off" parallax_method="off" background_repeat="no-repeat" background_blend="normal" ][db_pb_slide heading="Massey" button_text="Learn more" background_image="https://aidinc-web.s3.us-west-1.amazonaws.com/wp-content/uploads/2017/05/09193421/Massey_Console_1600.jpg" background_position="center" background_size="cover" background_color="#ffffff" use_bg_overlay="on" bg_overlay_color="rgba(0,0,0,0.15)" use_text_overlay="off" alignment="center" background_layout="dark" allow_player_pause="off" admin_title="massey" text_border_radius="3" header_font_select="default" header_font="||||" body_font_select="default" body_font="||||" custom_button="off" button_font_select="default" button_font="||||" button_use_icon="default" button_icon_placement="right" button_on_hover="on" button_link="https://aidinc.com/system-integration/paul-massey/" button_icon="%%32%%" use_background_color_gradient="off" background_color_gradient_start="#2b87da" background_color_gradient_end="#29c4a9" background_color_gradient_type="linear" background_color_gradient_direction="180deg" background_color_gradient_direction_radial="center" background_color_gradient_start_position="0%" background_color_gradient_end_position="100%" parallax="off" parallax_method="off" background_repeat="no-repeat" background_blend="normal" ]
[/db_pb_slide][/db_pb_slide][/db_pb_slide][/db_pb_slide]